Paul Wheatley awarded WFA Coach of the Year 2021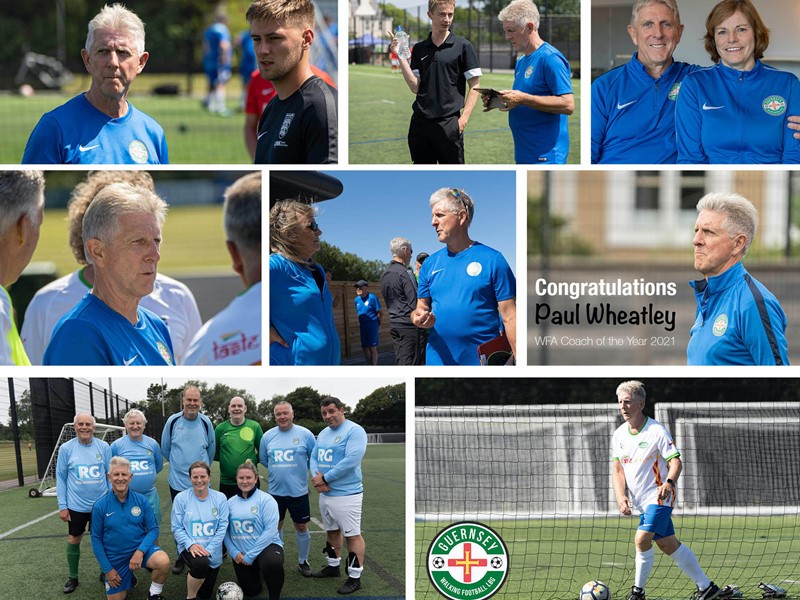 Guernsey Walking Football is very proud to announce that one of our coaches, Paul Wheatley, has been awarded one of the WFA Coaches of the Year 2021 (Grassroots Awards) by the Walking Football Association. Paul commits a great deal of time, dedication, networking and energy to his coaching role within the club. His focus includes the weekly Wednesday lunchtime training session he runs, which provides a safe, fun, social environment for individuals to try and develop their walking football skills. Paul has developed tailored coaching sessions for adults from all walks of life, whether they've had surgery, recent illness, chronic conditions, mental health conditions or simply those who have had injuries over the years and dreamt of getting a ball back at their feet. Paul has also been crucial in the networking of clubs all over the UK who have travelled to Guernsey for walking football festivals, plenty of which have plans to travel here again as they have been thoroughly impressed by their hosts!  
The WFA shared their reasons for recognising Paul for this award:
"Paul is quite simply the heart and soul of GWFC – he was one of the founder members and is involved in everything that goes on at the club. He holds dear the virtues of inclusion and diversity and has set up sessions for less mobile people, with long term health conditions and recuperation sessions. His energy and enthusiasm for the sport is boundless."
From all of the players and fellow organisers, well done Paul, we are lucky to have you!