Wheatley flies flag for Walking Football in Guernsey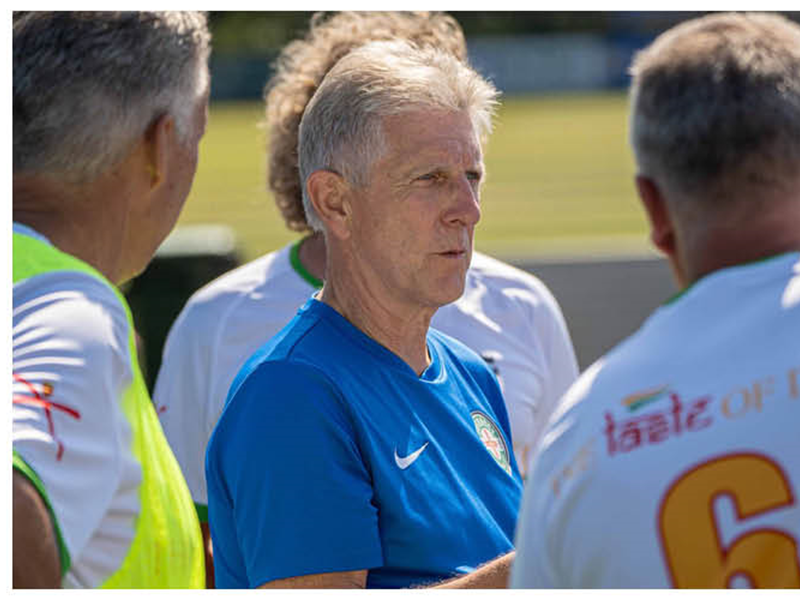 At the end of 2019 Paul Wheatley, a figurehead within the Walking Football scene since the Club's inception in late 2015, had the benefit of being coached by and played with the Southwest Counties and the England over 70s teams. This regular training continued into 2020 before the first COVID-19 lockdown was introduced.
Paul then spent most of the ensuing weeks analysing and the subsequent deployment of various coaching programs within Walking Football. Post lockdown this ranged from 1 to 1 coaching through to the return of full squads back in competitive action at the 3G pitch at KGV Memorial Playing Fields, the home of Walking Football in Guernsey. With 21 eager new players looking to try the sport and many regulars retying their laces, Paul was pleased to see the interest in the sport continue to develop despite the short break in play across all sports due to COVID-19. Paul highlighted  "A few weeks after lockdown we were back into the '30s playing across all age groups in small-sided teams. It was quite an intense time having to meet all of the criteria set out by local Government to ensure our sport could take place safely and that we could sufficiently protect all of our players. However we remain indebted to the staff at the Guernsey Sports Commission and the dedicated staff team overseeing the management and 3G pitch at KGV Playing Fields who enabled us to get back up and running so quickly".
With some 6 years of development work behind him, Paul was rightly recognised for his contribution towards the establishment and continued development of Walking Football here in Guernsey at a local awards ceremony organised by the Guernsey Sports Commission, an umbrella organisation tasked with overseeing all sport locally. They organise the Annual Sporting Achievement Awards and this year Paul Wheatley was shortlisted for the Dave Dorey Memorial Trophy. This year the award was a hotly contested accolade with no less than eight shortlisted. The award was for an individual from that sport, who has been involved voluntarily in coaching/ or development and made an outstanding contribution to that sport. There was some tough competition as other sports nominees included coaches from rugby, football, autocross, sailing, rowing and basketball. Whilst Paul Wheatley didn't win, his efforts towards Walking Football were clearly recognised and it is definitely a virtual pat on the back. Now our Island enters into its second lockdown Paul will no doubt be developing plans how the sport can develop in 2021 and beyond.
Image credit: 
OnScreen Creation - Olly Tracey